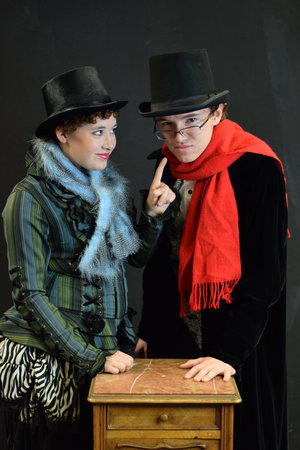 Lights Up! Theatre Company, a new school-year teen theatre conservatory program offering acting, singing, and dance instruction that just started in August, won't mount its first full production until spring, when the company will take on the musical version of Big Fish at the Marjorie Luke in April. But the teens were just too talented to wait til then, and after making their public debut as an ensemble performing songs from the '60's-era and some choreography as the opening act for the Roy Orbison Tribute show at the Lobero and signing up to sing Christmas Carols at 6 pm this coming Saturday, December 15, at the pop-up shopping bazaar Santa Barbara Night Market in Paseo Nuevo, a smaller group will take on Charles Dickens' A Christmas Carol at Center Stage Theater for shows at 2 & 7 pm on Sunday, December 16.
The story of Scrooge would seem to be a fitting first show as the tale of redemption mirrors Lights Up's mission of "providing acting, singing and dance instruction in a nurturing and supportive environment". "We're catching these teens at twelve to eighteen, when they're coming into their own as individuals, and when their talents appear. It can be a life-changing event for them, as it was for me," said Amy Love, the program's director, who has taught and directed in local schools since 2007 and counts directing Storybook Theater productions and acting in Ensemble plays among her earlier local theatrical credits. "I love being involved in these moments where kids getting their first role can change a path. So I want to make sure that they're handled carefully, that the vulnerability they bring gets respected and cared for. I want them to have a flowering of who they are in a way that doesn't crush their souls."
Lights Up's take on Scrooge's perilous soul-in-jeopardy Christmas Eve journey goes easy on the tough stuff, the tales of greed, ghosts, grief and eventually gratitude coming with a comedic twist. "It's still touching and tender, but also very theatrical and funny," Love said, adding that the show was originally only supposed to be a studio showcase for friends and family before it "grew into something bigger with props and costumes." But the set is very spare, she said, so much so that the kids themselves play some of the props and set pieces. The carolers also sing as part of the show, with the audience getting to join in a the end. "It's a lot of fun," Love said.